The Corning School District is proud to announce that all basic school supplies will be provided by the district this year. If students choose to purchase their own supplies, the district-provided supplies can be donated back to the school for future student needs. Further details will be provided at the District Meet and Greet scheduled for August 9th at 6 p.m. at the Community Center. Thank you to the CSD School Board for supporting and encouraging this initiative.
Message from the new Superintendent J Woolard.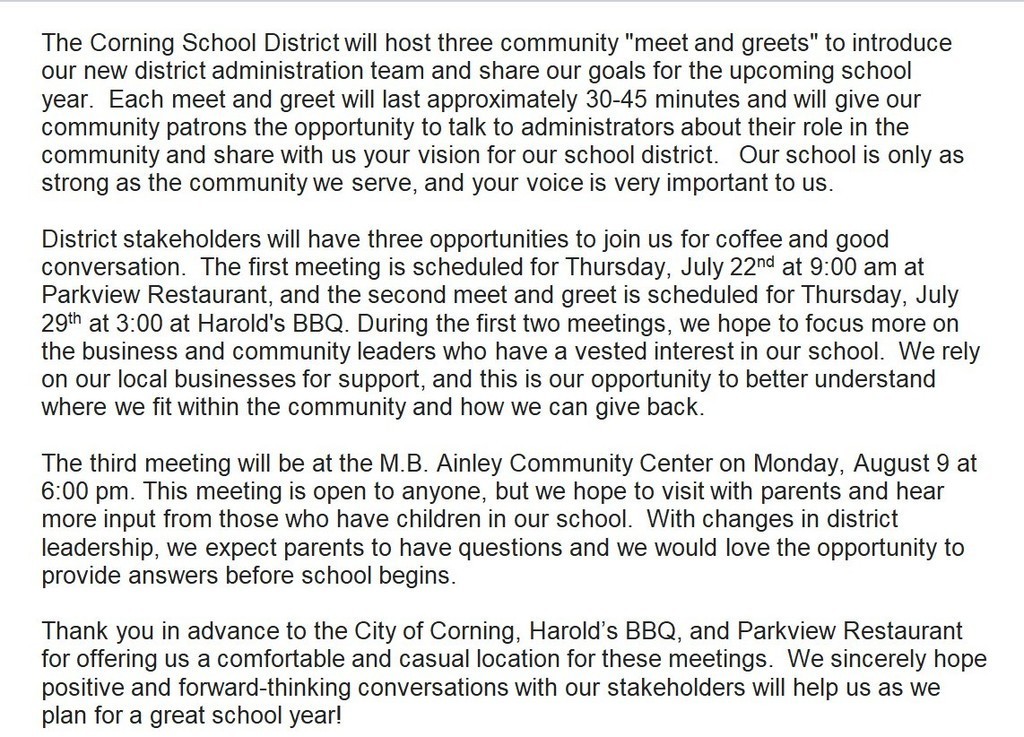 Attn Parents All children ages 11 as of 9-01-2021 must have a TDAP Immunization and before entering the 7th grade have a TDAP and a MCV4. Children who are age 16 on 9-01-21 must have MCV4 Immunization. Please have your child's immunizations up to date when school starts. Thanks, Ms. Ruth Ann, Corning Middle and High School Nurse
Blood Drive June 8th at First National Bank Please support from 12 to 4
Attn Parents: Thursday, May 27th will be our last day of the 2020-2021 school year. That day has been designated as an assessment day for targeted students who we feel may have suffered specific learning loss from multiple quarantine days or lack of consistent access during the remote learning. If you are not contacted by your child's principal or counselor, then your student is not required to attend on Thursday. If your child will be assessed on that day and you need transportation, please contact the school so we can ensure a bus is scheduled for pickup. At this time, we plan to run adjusted bus routes on that day. Please contact the school if you have any questions.
Attention Parents --- We just wanted to let you know the Pfizer vaccine is approved for ages 16 years and up, Several other schools are asking for the vaccine for that age group. It is available from Goodman Drug.
The 2020-2021 Athletic Awards Night is scheduled for Monday May 3,2021 In the High School Gymnasium at 6:00 P.M. We are looking forward to recognizing all of our student athletes and their contributions to Corning School District. Due to ongoing Coronavirus restrictions for schools, attendance must be limited. Student athletes may receive up to 6 tickets for admission. Tickets are to be given to family members only and we ask that family members sit together and practice social distancing. Face coverings are recommended. Student athletes may pick up their tickets in the Middle School Office during normal school hours.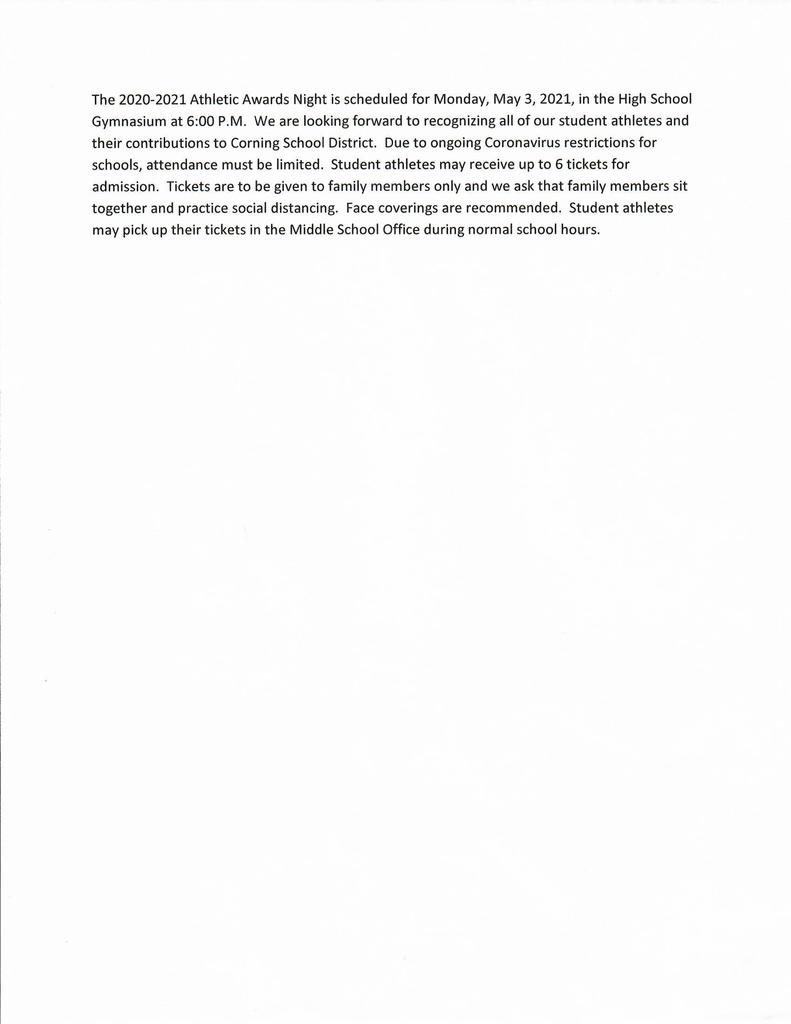 Parents Please remember that tomorrow is the last day to turn in your FFA Valentine's Day fund raiser order. The order forms can be downloaded from the school's website.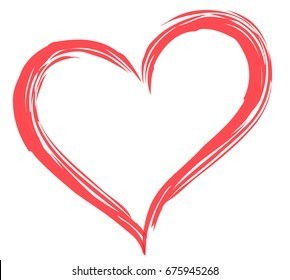 Attention parents: we know that hat Valentines Day is very special to many of you. And the fact that we can not have outside deliveries at this time is concerning some parents. In saying this our FFA club will be doing an in house delivery service. No outside vendors will be allowed on campus, nor are their any being used in this Valentines Day fundraiser. There is an order form on the school's website and mobile app. Here is a link.
https://www.corningschools.k12.ar.us/o/chs/article/382728
. Deadline is February the 8th.
Attention Parents: Because of the COVID-19 pandemic, Corning School District is not allowing any Valentine's Day deliveries from any off campus supplier. We regret this situation, but the safety of our staff and students is our top priority.
REMINDER. That Monday January the 18th will be a virtual day for our students. Lunches will be available at each cafeteria for pickup, at your students regular lunch time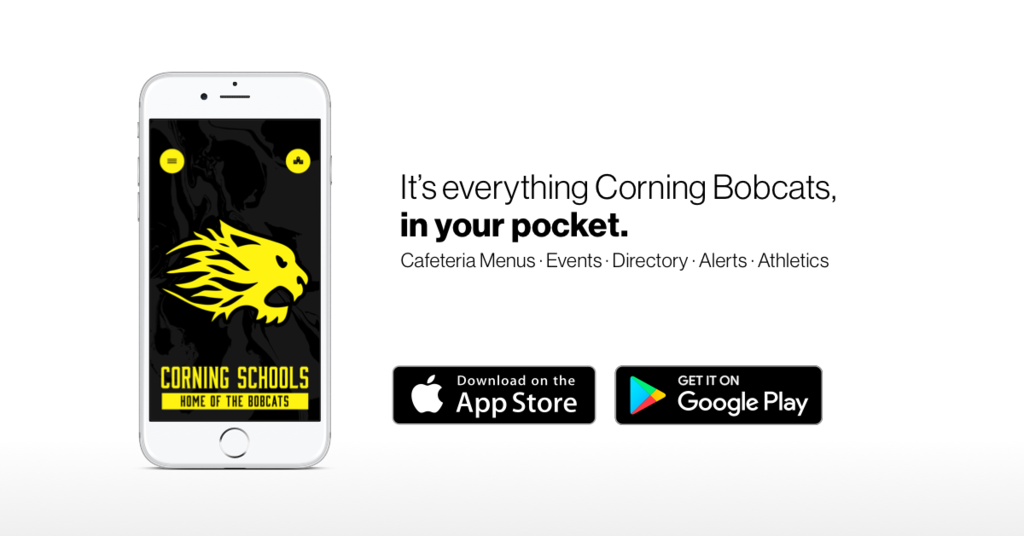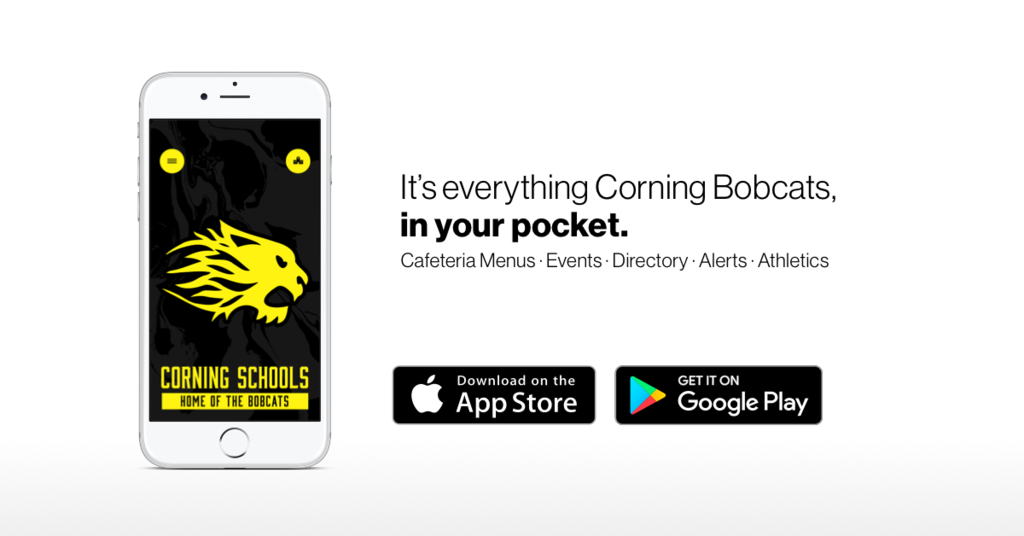 Students (boys and girls) in grades 9-12 who are interested in joining the golf team need to meet Coach Murray at the Corning golf course Monday, Aug 10 at 5:00 pm.
9th-12th grade students: If you missed registration, please pick up your paperwork and schedule in the high school office Monday-Thursday 8-3. You must wear a mask!
Juniors and Seniors taking ASU concurrent credit classes: Please check your school email. Mrs. Varvil has sent you a message about buying your books. This needs to be taken care of before school starts because ASU classes begin August 25!
If any 9-12 student missed registration this morning, they can come from 1-3 today. Don't forget your mask and to social distance!