Attention Seniors and parents / guardians of seniors. There will be a financial aid workshop on Tuesday, Oct 26th at 6pm in the CHS auditorium.
Weekly COVID update week ending 10-22 Total Students 831 Total Staff 116 Number of Positive Cases less than 5 Number of Quarantines less than 5
Attention. Due to weather we will be moving the Homecoming festivities inside. Our time schedule will remain the same.
The Corning School District will celebrate Homecoming on Friday the 15th. The following is a timeline for activities. 3:00 Homecoming Court pictures will be in the Auditorium. Wrap up pictures by 4:30. At 4:45 Homecoming Court will line up on track. At 5. Homecoming will start. And wrap up by 5:45 pm. If needed a weather decision will be made by 2:00 tomorrow. In case of inclement weather festivities will be in the High School Gym.
Attention Parents. Tomorrow morning at 9 there will be a Sr High pep-rally for the 9th -12th grades. Again parents and guardians are invited to attend but will have their temperature checked and have special seating. Students will not be allowed to sit with guests.
Attention Parents. There will be a Jr High pep rally for the 5th - 9th grades, at 1:30 today. Parents and guardians are invited to attend. All guests will have their temperature taken at the door and will have special seating. Guests will not be allowed to sit with students.
Corning FFA has mums for sale NOW at the baseball field parking lot. $15. Each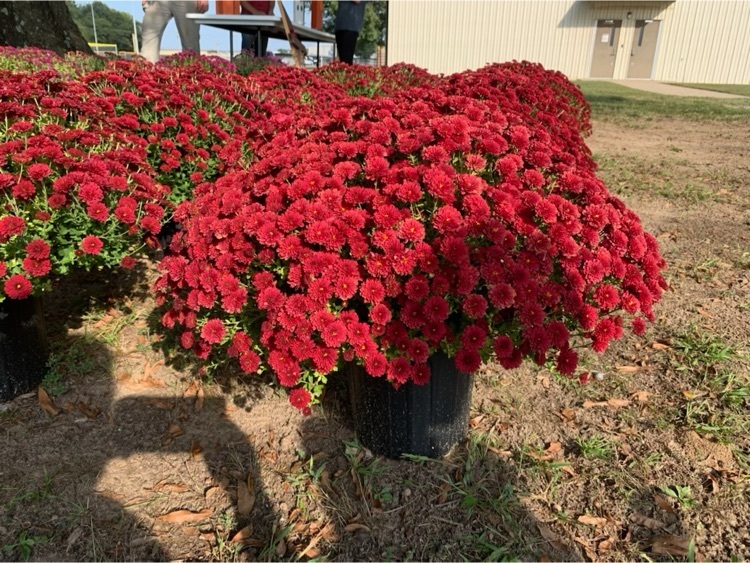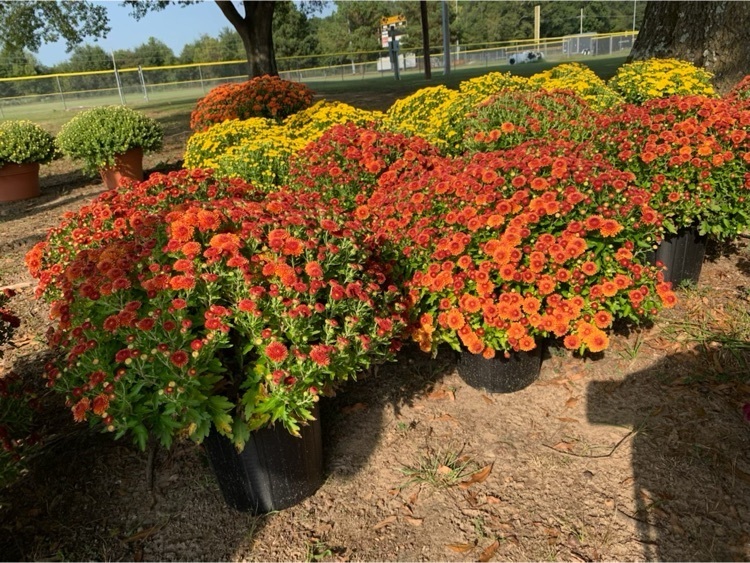 COVID update for week ending Oct 8th Number of students 831 Number of staff 116 Number of positive cases Less than 5 Number of quarantine 19
Fall Picture Day at CMS and CHS Due to unforeseen circumstances Fall Pictures have been rescheduled for Friday, October 22nd. Revised order forms are being sent from the Photographer and we will send those home when we receive them. Picture orders will be due on the day of pictures, so please be prepared. Proofs will not be sent. Thanks
COVID 19 update for week ending October 1st. Total students. 831 Total staff. 119 Positive cases. 0 Total quarantined. 13
COVID Update for week of September 24th Number of Students 831 Number of Staff 116 Active Positive Cases Fewer than 5 Total Quarantine 32
Attention Parents: Posted on our website is a letter from our Superintendent explaining vandalism happening on our school campus. Please follow the link here or go to the website and look in the documents section.
https://5il.co/zkh7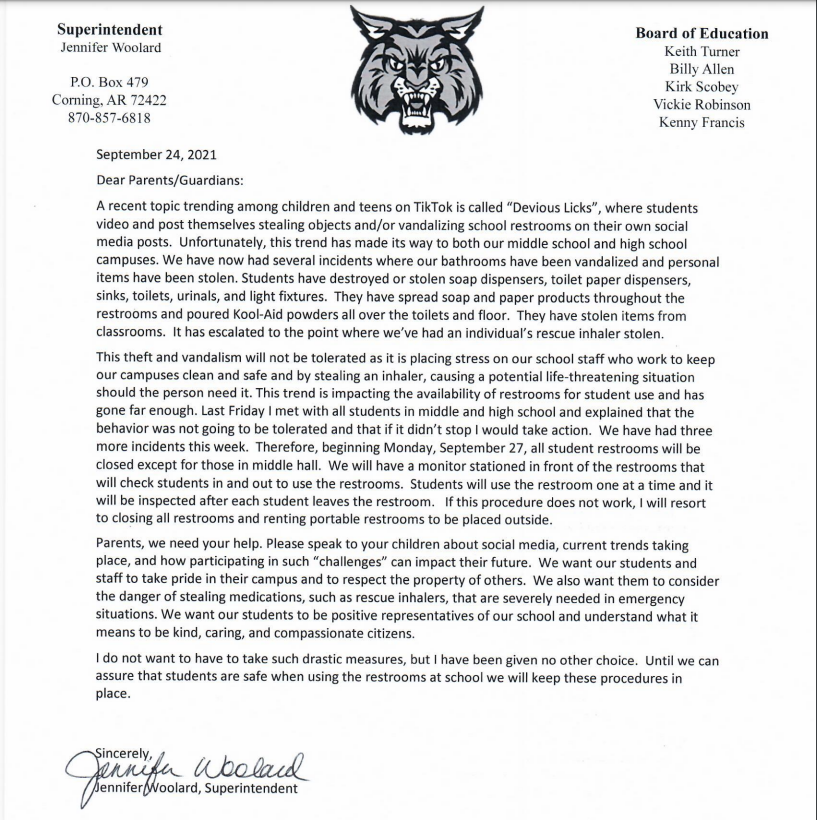 ATTENTION: Due to COVID-19, Friday night's game against Osceola has been cancelled..
COVID update for week ending 9-17 Total Students --- 831 Total Staff --- 116 Active Positive Cases --- 9 Total Quarantine --- 36
Attention Parents: New COVID numbers as of 9-10-21 Total Students --- 833 Total Staff --------- 116 Active Cases ----- 10 Total Quarantine -- 52
COVID Numbers as of 9/3/21 Total Students number -- 830 Total Staff -- 116 Active Cases -- 21 Total Quarantined -- 117
Here also is a copy of the Temporary Mask Policy. Please see attached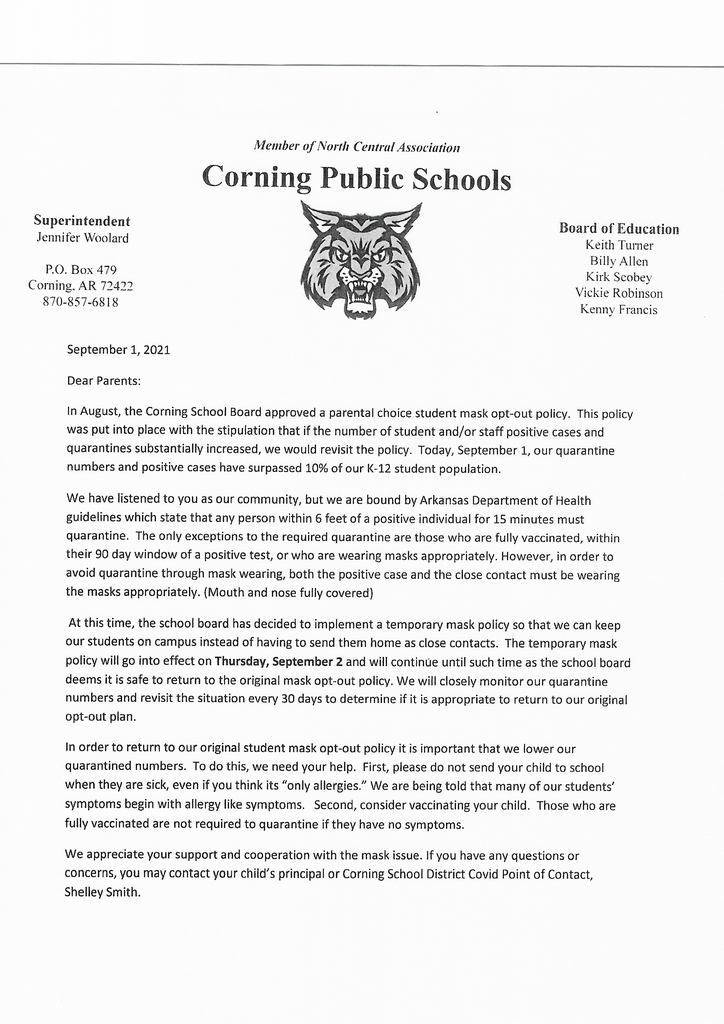 Corning School is going to a Temporary Mask Policy. Please read attached letter or view it on the school's website.
Corning Odyssey of the Mind Boosters are gearing up for a PAWPRINT EXTRAVAGANZA!!!!! Personalized pawprints will only be painted on Bobcat Lane!!! Please remember this is meant to be a yearly fundraiser, so all existing paws will be repainted. Paws may be purchased for $50 each and include the name of a business or student/family name (player's #'s may be added). Road grade paint and industrial stencils will be used. Projected completion date is mid-October. ALL ORDERS ARE DUE NO LATER THAN Tuesday, September 14th. The PawPrint form is attached and will also be sent home with students this Friday. Thanks for the support!!! Go BOBCATS!!!!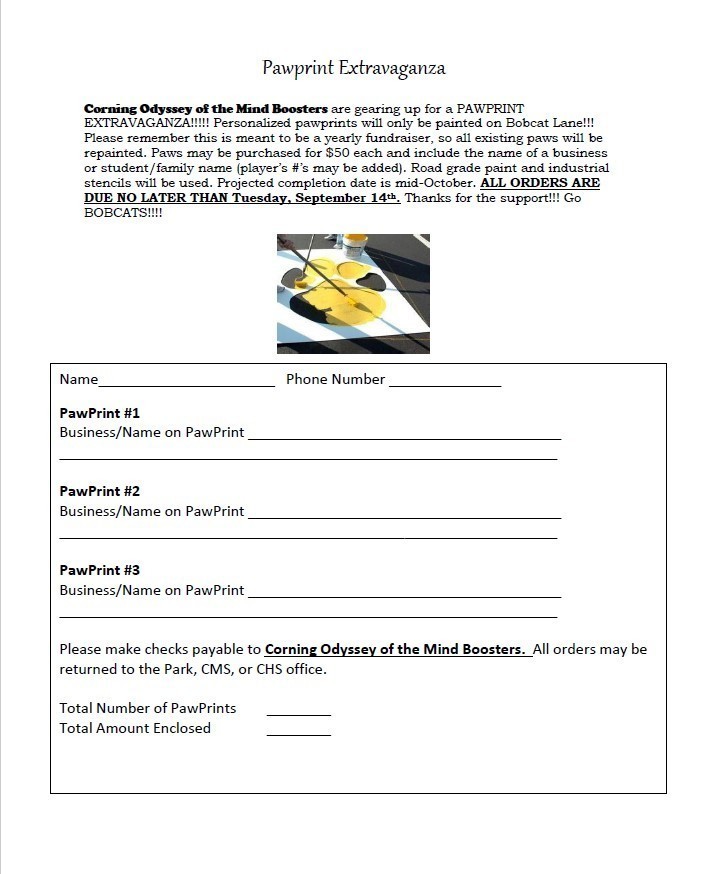 Free Backpacks!!!!!! 1st Choice Healthcare Thursday August 12th From 12-2pm First 50 Kids