Attention Parents and Guardians: The school will be conducting the annual body mass index (BMI) screenings of the 6th, 8th, and 10th graders starting Jan 25th. If you do not wish for your students to be screened, notify the nurse in writing by January 24, 2022.
Attention Parents, posted now on our website is a letter explaining new measures we are taking at school during this latest outbreak of COVID 19.
https://5il.co/144t9
Weekly COVID update For the week ending 1-10 Total Students 833 Total Staff 116 Active Cases 11 Total Quarantine 63
New COVID Guidelines.
https://5il.co/142qh
Please check link for the new COVID guidelines. This will be in effect as of 1/6/22. This is also posted on the Corning School Website.
Parents: Please be reminded that buses will run snow routes this afternoon exactly as they did this morning. Bus F and Bus B town routes will not run. Students who ride Bus D and Bus G to in town locations will not be dropped off today. Students will only be dropped off at the same location they were picked up this morning.
Bus routes will be the inclement weather routes both am and pm routes.
ATTENTION PARENTS AND GUARDIANS. Corning Schools WILL be in session tomorrow Friday, Jan 7. Buses will run snow routes only.
ATTENTION PARENTS. All students no school today Jan 6th. AMI day one
First semester report cards can now be view on your Home Access Account. Printed copies will be sent home today for grades K-6th. Printed copies can be requested in the offices for grades 7-12.
All 9th through 12th grade students will report to their 1st semester 1st hour class tomorrow, Wednesday, 5 January. During the 1st hour tomorrow you will be called out by class groups to receive your new 2nd semester schedules. Once you receive your new schedule in the auditorium you will then report to the 2nd semester class on your new schedule. Please do not come to Mrs. Varvil's office to get your 2nd semester schedule. She and Mrs. Grubb will not have them; all the new schedules will be in the auditorium. Go Bobcats! -- John Hampton Principal Corning High School
Attention: School will resume on Wednesday January the 5th. We will still be on Christmas break Monday and Tuesday
Attention Parents Tomorrow 12-21 Bus "D" will not run. Any student that usually rides bus D will not be counted absent.
Weekly COVID update for the week ending 12-17 Total Students 833 Total Staff 116 Total Active Cases 4 Total Quarantine 25
Tonight's games 12/10/21. Will start 30 minutes earlier than scheduled. Jr Boys will start at 5:30 now.
Weekly COVID update for the week ending 12/3 Total students 833 Total Staff. 116 Total Active Cases. 2 Total Quarantine. 6
Blood Drive. December 1st in the Agri. building.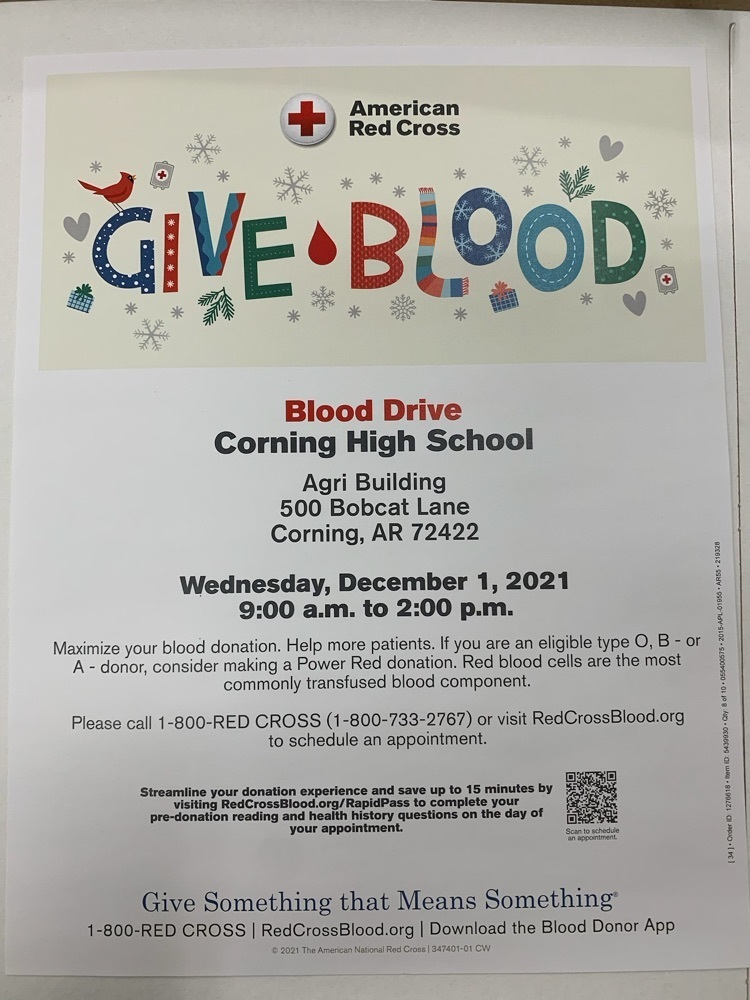 Weekly COVID update For the week ending 11-19 Total Students 833 Total Staff 116 Active Cases 11 Total Quarantine 40
Reminder that tomorrow, November 18th, is retake day for Pre-k through 11th grade, as well as senior composites
Happy Veterans Day from Corning School District!!! Please check out our video honoring our Veterans on this special day. It can be found on the mobile app and also the website. Or view from this direct link
https://5il.co/11qu6
New Basketball Schedules posted on our website and on the mobile app. Here are the direct links Boys
https://5il.co/11kel
Girls
https://5il.co/11ke8
Tonight's games start at 4:00. All four teams play.